Nashik District Profile
HNashik district is located between 18.33 degree & 20.53 degree north latitude & between 73.16 degree & 75.16 degree east longitude at northwest part of Maharashtra state, at 565 meters above mean sea level. Recently two tahsils are created in the sitrict making the total tahsils to 15. Out of 15 blocks in the district, as many as 8 blocks viz. surgana, peth, Igatpuri, Kalwan, baglan, dindori, Trimbakeswar & Nashik are tribal blocks.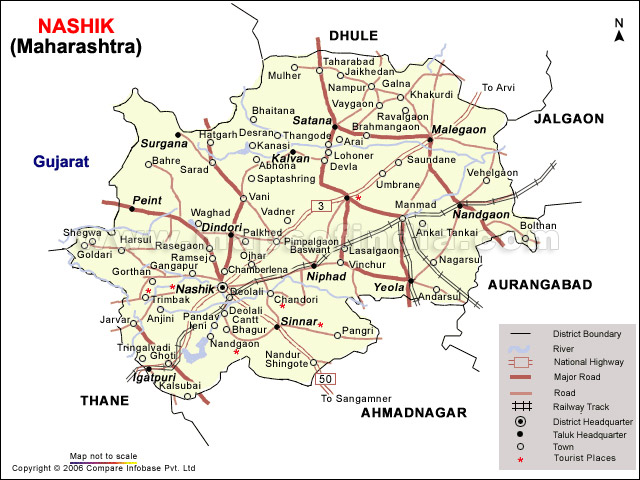 Though average rainfall of the district is between 2600 to 3000mm, there is wide variation in the rainfall received at various blocks. Most of the rainfall is received from June to September. The maximum temperature in summer is 42.5 degree certigrade & minimum temperature in winter is less than 5.00 degree centigrade. Relative humidity ranges from 43% to 62%.
            Since last 20 years the grape has acquired dominance on the agricultural economy of the district. Due to water shortage in kalwan, Deola, Bangon & Malegaon blocks, the farmers have shifted to pomegranate from sugarcane & grape crops. Some progressive farmers are cultivating flowers in green houses. These developments also indicate that the farmers in the district adopt new technologies & methods of cultivation very fast. 
Area & cultivation (Figures in ha.)
| | |
| --- | --- |
| Geographical area | 15,63,000 |
| Cultivable_area                       | 8,64,000 |
| Average kharif Crop area | 6,63,200 |
| Average Rabi Crap area | 1,36,500 |
| Actual sown area | 6,58,763 |
| Forest              | 3,40,000 |
| Uncultivable area | 23,000 |
Irrigation
| | |
| --- | --- |
| Area under irrigation | 4,19,000 |
| Major Project | 13 |
| Medium Project | 08 |
| Small Project | 44 |
| Rivers | Godawari, Girna, Darna, Mosam, Aaram, Vaitarna, Manyad, Kadwa |
Population                                                       
| | |
| --- | --- |
| Total Population | 49,94,000 |
| Male | 25,91,000 |
| Female | 24,03,000 |
| Urban | 19,38,000 |
| Rural | 30,56,000 |
| Scheduled cast              | 4,27,000 |
| Scheduled tribe | 11,94,000 |
Animal  Husbandry                                         
| | |
| --- | --- |
| Total Livestock | 25,95,000 |
| Cows + buffaloes | 1,44,000 |
Co Operative sector
| | |
| --- | --- |
| Total co operative societies | 10,329 |
| Primary agricultural societies | 8,30,000 |
| Co operative dairy societies | 534 |
| Sugar factories | 07 |

Major farming systems/enterprises (based on the analysis made by the KVK)
Farming system/enterprise
Agriculture + Horticulture
Horticulture + High tech Floriculture
Agriculture + Horticulture + Dairy
Agriculture + Poultry
Agriculture + Dairy
 Description of Agro-climatic Zone & major agro ecological situations (based on soil and topography)
| | | |
| --- | --- | --- |
| S. No | Agro-climatic Zone | Characteristics |
| 1. | Ghat Zone | Annual rainfall 3000 to 5000 mm., Laterite and non laterite soils with forest cover, Undulating topography |
| 2. | Transitional Zone I | Annual rainfall 1250 to 3000 mm., Reddish brown soils of hilly slopes |
| 3. | Transitional Zone II | Annual rainfall 700 to 1240 mm., medium black soils, plain zone. |
| 4. | Scarcity Zone | Annual rainfall 500to 700 mm., coarse shallow soils, calcareous soils. |
| | | |
| --- | --- | --- |
| S. No | Agro ecological situation | Characteristics |
| 1. | High rainfall, sloppy land, light soils | Hilly tract, Forest cover, lateritic soils |
| 2. | High rainfall, Medium soils | Undulating land, paddy, Niger, finger millet are main crops |
| 3. | Assured rainfall, Medium soils | Plain zone, Wheat, Soybean is the main crops. |
| 4. | Assured irrigation, Medium to heavy soils | Black soils, Grape and vegetable belt |
| 5. | Low rainfall, Scarcity area, Light to medium soils | Black soils, Pomegranate, maize are main crops |
| 6. | Low rainfall, un-assured rainfall, medium to heavy soils | Deep black soils, bajra, cotton are main crops |
 
 Soil types
| | | | |
| --- | --- | --- | --- |
| S. No | Soil type | Characteristics | Area in ha |
| 1. | Laterite and non laterite soils | Well drain, deficient in lime, PH 5-6, Low in nutrient, high leaching | 70400 |
| 2. | Reddish brown soils | Porous soils, absence in N,P,K,lime and organic matter, PH 7-7.5, low fertility status, high leaching | 496645 |
| 3. | Medium black soils | Heavy clay texture, PH 7.5-8.5, deficient in N and P, rich in K, poor aeration. | 321760 |
| 4. | Coarse shallow soils | Light texture, low clay content, PH 6-7.5, deficient in N,P,K. | 647255 |
Area, Production and Productivity of major crops cultivated in the district
| | | | | |
| --- | --- | --- | --- | --- |
| Sr. No. | Crop | Area (ha.) | Production (Qtl) | Productivity (Qtl/ha) |
| 1. | Total Summer Oilseed | 1600 | 16000 | 10.00 |
| 2. | Total Rabi Oilseed | 500 | 03000 | 6.00 |
| 3. | Rape & Mustard | 300 | 01000 | 2.20 |
| 4. | Total Kharif Oilseed | 75700 | 754000 | 9.96 |
| 5. | Castor seed | 1400 | 03000 | 2.00 |
| 6. | Niger | 16900 | 67000 | 3.94 |
| 7. | Kharif Sesame | 700 | 02000 | 2.94 |
| 8. | Total Rabi Pulses | 40600 | 251000 | 6.18 |
| 9. | Other Rabi Pulses | 1500 | 06000 | 4.00 |
| 10. | Total Rabi Cereals | 67200 | 883000 | 13.14 |
| 11. | Total Rabi Cereals | 200 | 01000 | 5.50 |
| 12. | Other Kharif Pulses | 49400 | 358000 | 7.25 |
| 13. | Total Kharif Pulses | 18500 | 83000 | 4.50 |
| 14. | Udid | 12000 | 110000 | 9.20 |
| 15. | Moong | 9700 | 100000 | 10.34 |
| 16. | Total Kharif Cereals | 466500 | 4580000 | 9.82 |
| 17. | Other Kharif Cereals | 13400 | 94000 | 7.00 |
| 18. | Summer Maize | 200 | 04000 | 18.49 |
| 19. | Rabi Maize | 900 | 14000 | 16.05 |
| 20. | Kharif Maize | 39200 | 857000 | 21.86 |
| 21. | Ragi | 41400 | 402000 | 9.70 |
| 22. | Rabi Sunflower | 100 | 01000 | 5.57 |
| 23. | Kharif Sunflower | 600 | 03000 | 5.26 |
| 24. | Rice Total | 50800 | 702000 | 13.82 |
| 25. | Wheat | 55600 | 813000 | 14.62 |
| 26. | Kharif Jowar | 6500 | 80000 | 12.28 |
| 27. | Rabi Jowar | 10500 | 55000 | 5.24 |
| 28. | Bajri | 315200 | 2445000 | 7.76 |
| 29. | Total Cereals | 533900 | 5467000 | 10.24 |
| 30. | Tur | 9200 | 65000 | 7.07 |
| 31. | Gram | 39100 | 245000 | 6.26 |
| 32. | Total Pulses | 90000 | 609000 | 6.77 |
| 33. | Total Foddgrain | 623900 | 6076000 | 9.74 |
| 34. | Sugarcane | 12100 | 6729000 | 560.00 |
| 35. | Cotton | 14100 | 200000 | 24.13 |
| 36. | Kharif Groundnut | 35800 | 305000 | 8.53 |
| 37. | Safflower | 100 | 01000 | 5.09 |
| 38. | Summer Groundnut | 1600 | 16000 | 10.08 |
| 39. | Soybean | 20300 | 374000 | 18.44 |
| 40. | Total Oilseeds | 77800 | 773000 | 9.93 |
| 41. | Kharif Rice | 50800 | 702000 | 13.82 |
 Weather data of operational area
Month

Rainfall (mm)

Temperature 0 C

Relative Humidity (%)

Maximum

Minimum

October  2006

84

25.8

15.1

70.3

November . 2006

23

27.0

17.4

87.3

December 2006

-

28.6

11.6

88.5

January 2007

-

28.8

9.1

81.8

February 2007

-

30.1

34.7

87.5

March 2007

-

33.6

13.1

72.5

April 2007

34.6

38.5

18.1

64.8

May 2007

31.1

36.2

16.0

75.3

June 2007

366.5

31.9

22.6

91.0

July 2007

199.5

28.9

22.1

92.8

August 2007

171.1

27.7

21.5

95.3

September 2007

155

29.7

20.9

95.3
Production and productivity of livestock, Poultry, Fisheries etc. in the district
Category

Population

Production

Productivity

Cattle

Crossbred

166947

Milk 401383 MT

11 lit /cow /day

Indigenous

998263

04-05 lit /cow /day

Buffalo

259805

06 – 10 lit /buffalo /day

Sheep

Crossbred

1437

Wool 163.345 MT

-

Indigenous

324267

-

Goats

701601

Milk included already

0.5 - 1 lit /goat/ day

Pigs

30627

Meat 45.9405  MT

12-18 kg / pigs

Crossbred

-

-

-

Indigenous

-

-

-

Rabbits

1036

Meat 780 kg

0.5 - 1 Kg / rabbit

Poultry

4044420

   Egg 3461.08 lkh     Meat 303.33 MT

-

Hens

-

-

-

Desi

-

-

50 Eggs/ year

Improved

-

-

120-140 Eggs/ year

Ducks

-

-

-

Emu

800

10000 eggs

25-35 eggs/ Emu pair /year
Category

Area

Production

Productivity

Fish

119 major & minor tanks

-

-

Katla

-

450 MT / year

21 Kg/ha approximately

Mrugal

-

520 MT / year

Rohu

-

560 MT / year

Cyprinus

-

670 MT / year

Other carps

-

300 MT / year

Mural

-

100 MT / year

Local fish

-

500 MT / year